From the blog
April 13, 2018
I'm not actually sure when SSLMate was born. I got the idea, registered the domain name, and wrote the first lines of code in August 2013, but I put it on the backburner until March 2014. I think I "launched" in early April, but since I thought of SSLMate as a side project mainly for my own use, I didn't do anything special.
I do know that I sold my first certificate on April 13, 2014, four years ago to this day. I sold it to a friend who needed to replace his certificates after Heartbleed and was fed up ...
Photo of the Day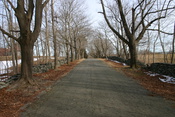 From the album Colt State Park.